Project Sites
Sensitive Examination Technique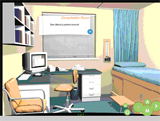 Design team:
Mike Keppell, Hong Kong Institute of Education and
The Biomedical Multimedia Unit, The University of Melbourne
Contact:
The Biomedical Multimedia Unit
Description:
In a multimedia resource to teach medical students issues associated with the performance of cervical screening tests, the Sensitive Examination Technique, students follow the medical histories of five different patients and make choices about how they will handle each examination. The learning environment is set in a realistic doctor's surgery, and students can navigate around the spaces according to need. The emphasis in the resource is for the students to think about the nature of the procedure and its execution from the woman's perspective. At all times, the fostering of a positive doctor-patient relationship is paramount. The authentic task is to manage the examination of one female patient and to make decisions and keep records on the diagnosis and management of this particular case.
Web links:
More information on the learning environment:
http://www.mdhs.unimelb.edu.au/bmu/showcase/set/index.html
Read more:
Keppell, M. J., Gunn, J., Hegarty, K., Madden, V., O'Connor, V., & Kerse, N. (2005). Student-centred learning: Multimedia learning designs using authentic learning interactions in medicine, dentistry and health sciences. In S. Mishra & R. C. Sharma (Eds.), Interactive multimedia in education and training (pp. 350-376). Hershey, PA: IDEA Group Publishing.
Keppell, M., Gunn, J., Hegarty, K., Madden, V., O'Connor, V., Kerse, N., & Judd, T. (2003). Using authentic patient interactions to teach cervical screening to medical students. In D. Lassner & C. McNaught (Eds.), World Conference on Educational Multimedia, Hypermedia and Telecommunications 2003 (pp. 1439-1446). Norfolk, VA: AACE. Available: http://www.editlib.org
© 2006 Faculty of Education, University of Wollongong.