Project Sites
Research Preparation: Research Methods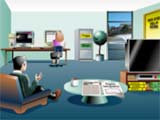 Design team:
Professor Max Angus, Dr Jan Gray, Edith Cowan University
Contact:
Description:
In this learning environment, students do not learn research methods by studying texts describing research methodologies and appropriate applications. Instead they work virtually in a graduate research centre where they are given the task of investigating the closure of a rural school. They do this using both qualitative and quantitative methods, and they are assisted by two virtual researchers who have collected data from the community and assembled it in a raw form in the centre. The students can examine school records, population data, interviews with teachers, parents and community members, newspaper reports and other documents. Students produce a report that analyses the impact of the closure of the school on the rural community.
Web links:
This website is not freely accessible but more information on it can be found at the Learning Designs Website, at: http://www.learningdesigns.uow.edu.au/index.html
Read more:
Herrington, J., Reeves, T. C., Oliver, R., & Woo, Y. (2004). Designing authentic activities in web-based courses. Journal of Computing in Higher Education, 16(1), 3-29.
© 2006 Faculty of Education, University of Wollongong.